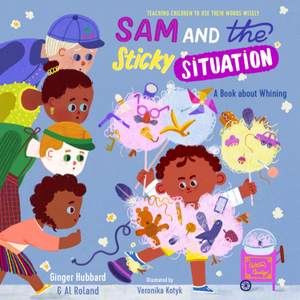 Sam has figured out a way to get what he wants when he wants it—he whines. In fact, it works so well that he's started whining more and more to get his way. Not only does Sam's mother give into his whining very quickly—he learned how to whine from her. But, Sam finds himself in quite the sticky situation when his whining leads him to being covered with cotton candy and stuck on the top of a Ferris wheel!
All parents want their children to whine less, but few notice that they might have a problem with whining too. Best-selling author Ginger Hubbard, along with Al Roland, help families think about whining with a silly story that will not only make them laugh, but will also encourage them to see how whining stems from a heart that wants things more than God. The parent resource page at the end of Sam and the Sticky Situation: A Book about Whining presents a biblical framework and practical suggestions to help children understand why they whine and how to learn a better way of expressing themselves.
Children ages 4-7 will love the story with its bright, fun illustrations, and along the way will learn that there are better ways than whining to communicate.
Sam and the Sticky Situation is part of the new Teaching Children to Use Their Words Wisely series.
About the Author
Ginger Hubbard speaks at women's events, parenting conferences, and homeschool conventions across the country, and cohosts the Parenting with Ginger Hubbard podcast. She is the bestselling author of Don't Make Me Count to Three, Wise Words for Moms, and I Can't Believe You Just Said That and the coauthor of the Teaching Children to Use Their Words Wisely series. Ginger and her husband have four adult children and live in Opelika, Alabama, where they enjoy working together from home. 
Al Roland has worked as a software developer for over thirty-six years. He enjoys spending time with his family, long road trips, mountain biking, adventure, and serving several ministries including RYFO which provides Christian host homes for traveling musicians. He is the coauthor of the Teaching Children to Use Their Words Wisely series. Al and his wife live in Opelika, Alabama where they raised and homeschooled their four children.
ILLUSTRATOR
Veronika Kotyk is a Ukrainian illustrator who is passionate about creating quirky characters and bright worlds for children's books. After receiving a fine art degree, she explored foreign cultures and various forms of art. Her awards include the 2017 stArt Award and a gold medal at Mom's Choice Awards. She is the illustrator for the Teaching Children to Use Their Words Wisely series.