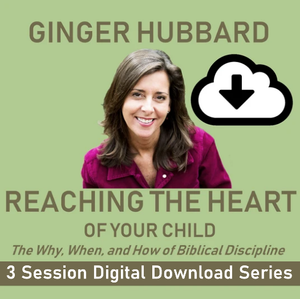 Do you find yourself threatening, repeating your instructions, or raising your voice in an attempt to get your children to obey? Are you frustrated because it seems you just can't reach the heart of your child? Through personal experience and the practical application of Scripture, Ginger encourages and equips parents to reach past the outward behavior of their children and dive deeply into the issues of the heart. Ginger's candid approach helps parents move beyond the frustrations of not knowing how to handle issues like disobedience and into a confident, well-balanced approach to raising their children.
This 3 session Digital Download series includes:
Session 1:  How to Reach the Heart of Your Child
Session 2: Taming the Tongue: How to Give a Biblical Reproof
Session 3: The Biblical Use of the Rod
The content will be available as three high quality mp3 audio files in a 252MB zip file at checkout.
This seminar is based on the content of Ginger's best-selling book, "Don't Make Me Count to Three!"
Having trouble downloading on your phone?
Due to size, it is recommended you purchase and download the digital series from your desktop and transfer it to your device with software like iTunes.  It is possible directly from your device, if you have trouble you can try these instructions...
Digital Download from Phone Instructions